Over the last few years, we've seen many brand collaborations happening. From fashion brands to retail stores and tech companies, everyone seems to be looking for another brand that fits their target group or a particular product in order to do a co-branded campaign.
Thanks to this new "trend," if we can call it that, we've seen a ton of incredible marketing campaigns and many memorable products that have stood the test of time and have become a cultural phenomenon of sorts. Some people still wonder why brands do such collaborations, what they get out of them, how they pick the right partner, and why some partnerships become much more successful than others.
In this article, we will be discussing all that while also giving you some of the best brand collaboration examples we've seen so far. Hopefully, they inspire you to try to create a memorable campaign of your own.
Let's kick things off.
What's Co-Branding?
Before we discuss brand collaborations and partnerships in detail, let's determine what we mean when talking about co-branding. By definition, it's a strategy that aims to combine two unique, popular brands and form a third, one-of-a-kind branded product or service. If we have to simplify it, we can say that the idea is to use a co-branding strategy as a way to announce a new, unique service or product to the market.
When done well, this new product or service should have characteristics from both brands, and it should easily be recognizable as a collaboration between the two. Co-branding can be highly effective when it truly takes each company's core characteristics and attributes and merges them together in an organic way. It helps extend the sales potential, reach, and uniqueness of the product or services, and thus it's able to capture the attention of consumers of each brand.
What's the Difference Between Co-Marketing and Co-Branding?
When we talk about co-branding, we are discussing the entire process of two companies merging to create something fresh and distinctive for the market. On the other hand, co-marketing is simply a process where two brands promote multiple products through a combined strategy. In that scenario, the focus is on communication – companies will need only to have an aligned message dedicated to capturing their audience's attention.
If you're considering whether to go for co-marketing or co-branding, the most important thing to consider is how much time you're willing to invest in the process and how both of these initiatives can help improve your brand's position in the marketplace. Co-marketing can be very effective when organizations are indeed in sync and are willing to work hard to promote each other's products/services in the most meaningful way possible.
However, if you truly want to merge with another brand for a particular product or service, it might be more beneficial if you go with co-branding, as the new offering you will introduce to the market can make waves for both companies and turn into a win-win situation.
Why Are So Many Companies Doing Co-Branding Nowadays?
By now, you might be thinking that co-branding sounds like a good idea. But what are the real benefits that can come from you putting in the effort to do it? What benefits can leveraging the strengths and successes of two different brands have for the growth of each individual business? Let's take a look.
Reach New Audiences and Markets
A co-branded campaign, product, or service can expose both brands to new audiences, and it can also make an impact on your current target audiences if they overlap with the company you're partnering with. For example, loyal customers of one brand may be more interested in trying a co-branded service or product, even though they wouldn't consider the second brand on its own and vice versa, opening the doors to potential new markets for both businesses.
Along with that, co-branding often creates some buzz. It extends beyond existing audiences (in some cases, such collaborations go viral and reach all mainstream media), thus generating more publicity and allowing brands to become more popular amongst their audiences and in the eye of the general public.
Utilize Each Other's Strengths and Weaknesses
When it's well executed, a co-branding campaign helps both brands by leveraging the strengths of each one. Let's take an example: if you have one brand with immense technical know-how and another that's more developed creatively but faces tech limitations, by merging them, they can work to overcome their weaknesses and utilize each other's strengths to produce the best possible outcome.
This can be a great idea for companies that have recently gone through a rebranding phase and are trying to shake off their old image. By partnering with a more youthful, trendy brand, they can present themselves in a new, desired light and get introduced to new markets.
Reduced Cost and Risk
Entering new markets and releasing new products and services are associated with a ton of risk for every brand. One way to reduce it is by partnering with a brand that's already established in the market or category your business is aiming to enter – that way, the risk will be minimized, and you will be able to test the waters without putting too much on the line.
Using each company's established values and ideals can also be a cost-effective way to communicate change within both brands. Brand campaigns that truly make a difference aren't cheap, and it can be a lot more useful to showcase change through association than by spelling it out to your audience. Basically, instead of saying, "Oh look, now we're youthful," you can look for a brand to engage with that already has those youthful principles intact.
Best Examples of Brand Partnerships That Can Inspire You to Make the Leap
As we already mentioned, we've seen quite a lot of memorable brand partnerships over the last few years. Most of these were created by big companies who decided to collaborate on a project and truly managed to cause a stir in the market, bring in new audiences, and even enter mainstream news with their partnerships.
Most of the examples you will see below have happened in the last five years, and we would say that all of them can serve as an example of how to do brand partnerships the right way – so that they're mutually beneficial for both parties.
Kanye West x Adidas
Kanye West, or "Ye " as he is well-known, is not only one of the biggest names in rap history but also a pop culture phenomenon. Kanye's reputation is partially due to his music, but let's not forget his many controversial speeches, his marriage to the most popular Kardashian sister, and their public separation that all contributed to his massive popularity. On the other hand, Adidas is a well-known sports apparel brand with a reputation for being more classic, aimed toward professional athletes, and with a more old-school feel.
A few years ago, when Adidas decided to compete with Nike in the sneaker market and get more noise in the pop culture scene, the company decided to make a footwear collaboration with Kanye that was called "Yeezy". From there, as people say, "the rest is history." Soon after they were released, the so-called Yeezys became a phenomenon, causing a rapid rise in sales and boosting Adidas's popularity as a brand among sneakerheads. Furthermore, they showcased Kanye's ability to create music and design new, interesting, and well-liked apparel among streetwear fans.
This partnership is a perfect showcase for terrific co-branding – on the one hand, it gave Adidas a way to create a buzz around its footwear while also changing its image to a more youthful, fashionable brand. On the other hand, it gave Kanye a chance to build his own apparel line and showcase his abilities as a designer on the big stage and with a renowned brand. One factor that further helped this partnership's success was exclusivity – roll-outs were scarce, the price tag was high, and the line had a cult following that was ready to do anything to get the latest drop. In the first year of the partnership, Adidas's net income climbed by 19.5% to $1.9 billion.
BMW x Louis Vuitton
This may be one of the strangest pairings on the list – a car manufacturer and a fashion brand. However, if you truly take the time to think about it, this partnership does make sense. Louis Vuitton's most signature lines are designed for business and travel. BMW is a car that's mostly branded as a high-class, expensive vehicle for people that have the money to afford it. Both brands put a value on luxury. To top it all off, they're both known as traditional, well-established brands that have a positive reputation amongst consumers.
All of these shared values and common paths are what make this partnership a sensible one for both parties. In their joint project, BMW came up with a new sports car model called the "BMW i8," and Louis Vuitton made a set of exclusive suitcases and bags that fit the car's parcel shelf perfectly.
Now for most people, paying $20,000 for a set of four bags and suitcases might sound crazy, but when you're ready to give more than $140,000 for the car, the price seems totally reasonable. Furthermore, Louis Vuitton made sure that the suitcases not only fit in the car's parcel but that they followed the vehicle's aesthetic – sleek, masculine, and high-quality.
This is an example of a great partnership that doesn't aim to rebrand any of the companies or target new markets. It's simply made to cause good publicity and to gather attention from people who are already loyal customers of either brand.
Nike x Apple
If a marketing match was made in heaven, it would be Nike x Apple. These two companies are among the best-advertised ones in the history of business. All of their commercial efforts are considered textbook examples, and their success amongst consumers is evident. These two companies first started working together on joint projects in the '00s, when Apple released the first iPods.
The co-branding then aimed to bring music from Apple to Nike's customers using the latest technology, and so Nike x iPod created sneakers, trackers, and clothing that connected people to their favorite songs. Then the partnership evolved to the so-called "Nike+," which used trackers to measure a person's activity through gear and clothing and then sync it with his iPhone so that he could keep track of his workout data. These transmitters could be built into armbands, shoes, and even balls and could be used to measure distance, heart rate, calories burned, and time.
Now, you have a terrific integration between Nike's workout apps (Nike Run Club and Nike Training Club) by having them sync with the Apple Watch to display workout parameters.
This is an example of another genius co-branding move that helps both companies. Nike and Apple are both brands that aim to be the best in their segment, and the feeling that they want to give to their customers is that of individuality, greatness, and modernness. That's why this partnership works for both companies – their target audiences are almost the same, and they can benefit from this additional collaboration without it costing them too much.
GoPro x Red Bull
Both GoPro and RedBull are brands that don't just sell products – they sell a lifestyle, particularly one associated with fun, adventures, action, and being fearless in the most extreme situations. These shared values make them a terrific pairing for all sorts of co-branding campaigns, especially ones associated with extreme sports.
To make this partnership work, GoPro provides adventurers and athletes from across the globe with the tools and money to be able to capture stunts, races, and other events on video from their own perspective. At the same time, Red Bull is one of the main sponsors for most of these events. GoPro's unique camera and the specific angle from which sports can be filmed, thanks to it, provide Red Bull with better, more exciting material to promote the events they sponsor, which helps both companies grow.
GoPro and RedBull have partnered many times over the years, but perhaps what we remember the most is Felix Baumgartner's jump from 24 miles above the Earth with a GoPro strapped on him. Not only did Felix set three world records that day, but he also did it while being sponsored by both GoPro and Red Bull.
Uber x Spotify
The partnership between music streaming giant Spotify and the biggest ride-hailing app in the world, Uber, had one main goal – to "create a soundtrack for your ride." This collaboration is an excellent example of how two companies that provide very different services can come together and get more users.
The whole idea of the campaign was for people who climb into an Uber to be encouraged to connect with Spotify while in the car and DJ their own ride. Users could choose from their own music on the app and enjoy the trip even more.
This partnership works so well because it makes a ton of sense. Yes, getting a ride and listening to music are two separate things, but we often like to do them together, as it enhances our experience. Spotify and Uber knew that and took advantage of it to create a genuinely memorable partnership that managed to earn both companies new users.
Kanye West x GAP
The partnership with Adidas and then the creation of his own personal brand, "Yeezy," turned Kanye West not only into one of the most famous rappers in the world but also a renowned designer. The collaboration with GAP took Kanye's alter ego, "Ye," and that led to the two companies forming a kind of sub-brand.
The partnership was formed in 2020, and it aimed to make the high-fashion line "Yeezy" more accessible to everyday consumers by selling it with the help of an iconic American retailer (GAP). Basically, the idea was to make Kanye's clothes more accessible to the general public while also helping GAP become more relatable and desirable to Gen-Z and Millennials. Even though it might not make sense at first glance, this partnership turned out to be a super success, with all the clothes selling out minutes after they were released.
IKEA x Virgil Abloh
With Off-White, Virgil Abloh made fashion history and managed to create some of the most striking designs in recent years. His collaboration with Nike – "The X" – is already considered a streetwear classic, and his passing has made his work become even more iconic.
IKEA is the beloved brand of our mothers and grandmothers, and it became our favorite from the moment we started living alone. Its collaboration with drop culture and a hyped high fashion designer was all extremely unexpected. However, as we all know, sometimes the things you expect the least end up being the most incredible surprises, and this is one of those cases.
The collaboration of IKEA's minimalistic, classic design with Abloh's flair and knack for streetwear culture made customers run to stores to snatch up the limited edition furniture. The drop included a Mona Lisa print, an Off-White twist to the iconic IKEA bag, and of course, the famous rug with "Wet Grass" written on it. In fact, to hype up the partnership even more, in some locations, IKEA put quotation marks around their store logos, taking inspiration from Abloh's iconic signature.
Even though it was unusual, this co-branding move was a win for both parties. Virgil's name got into the mainstream public, and on the other hand, IKEA got to boost its name in the high fashion and luxury circles.
SKIMS x Fendi
Everyone that's into pop culture loves to say that "the devil works hard, and only Kris Jenner works harder." That's for a good reason – almost every Kardashian business, including the beloved SKIMS, has become a mainstream success. Kim Kardashian's brand took on her image of wearing tight-fitting clothes and utilized the limited-release, product drops strategy to gain even more hype and customer loyalty.
However, the collaboration with the high fashion house Fendi happened because of a funny story rather than intentional strategy. The creative director of Fendi, Kim Jones, said that the idea came to him one afternoon when his staff stopped paying attention to him and instead started to stare at their phones in anticipation of the latest SKIMS drop. He claims that the idea to suggest a collaboration came to him at that precise moment.
Of course, as we now know, the SKIMS x Fendi capsule was a massive success. It managed to gather a waiting list of over 300,000 people and sold out immediately after it got launched.
Here again, we have a terrific co-branding example where both companies benefited from the partnership. SKIMS and Kim got affiliation with a high fashion house, and Fendi got a chance to reach a broader, newer audience and enter the mainstream.
New Balance x Aime Leon Dore
New Balance could probably give a TED talk about how a brand can go from being almost obsolete to becoming iconic and one of the most hyped-up companies in the last few years. You could say that one of the ways this renaissance for New Balance started was with this collaboration with New York streetwear brand Aime Leon Dore (ALD).
ALD's designer Teddy Saints found an old pair of New Balances – the 550 model that was out of production by that point – and re-released it as a part of this collaboration. It immediately became a massive hit, and now the New Balance 550 is one of the hottest models on the market.
In fact, this co-branding was so successful that it got Saints appointed as New Balance's new creative director, and the newest drops of the 550 model now get around 70,000 people waiting in virtual queues, according to Glamour magazine.
Crocs x Balenciaga
Both Balenciaga and Crocs are experts at making successful collaborations, so it's no wonder that their co-branded effort was also a massive hit. Even though both companies often participate in partnerships with other popular businesses, this co-branding effort was a new kind of shock for customers and fashion experts alike.
While we can't say that everyone loved this Crocs x Balenciaga high heel, it certainly made headlines, and it led to massive marketing value for both brands.
After all, Balenciaga is known for twisting fashion and making new trends out of things that seem ugly at first sight, and Crocs have been notoriously mocked as garden shoes worn by kids. In that sense, the collaboration between the two brands made a ton of sense, and many people may not have worn the weird-looking shoe they managed to produce, but it certainly helped create headlines.
Nike x Off-White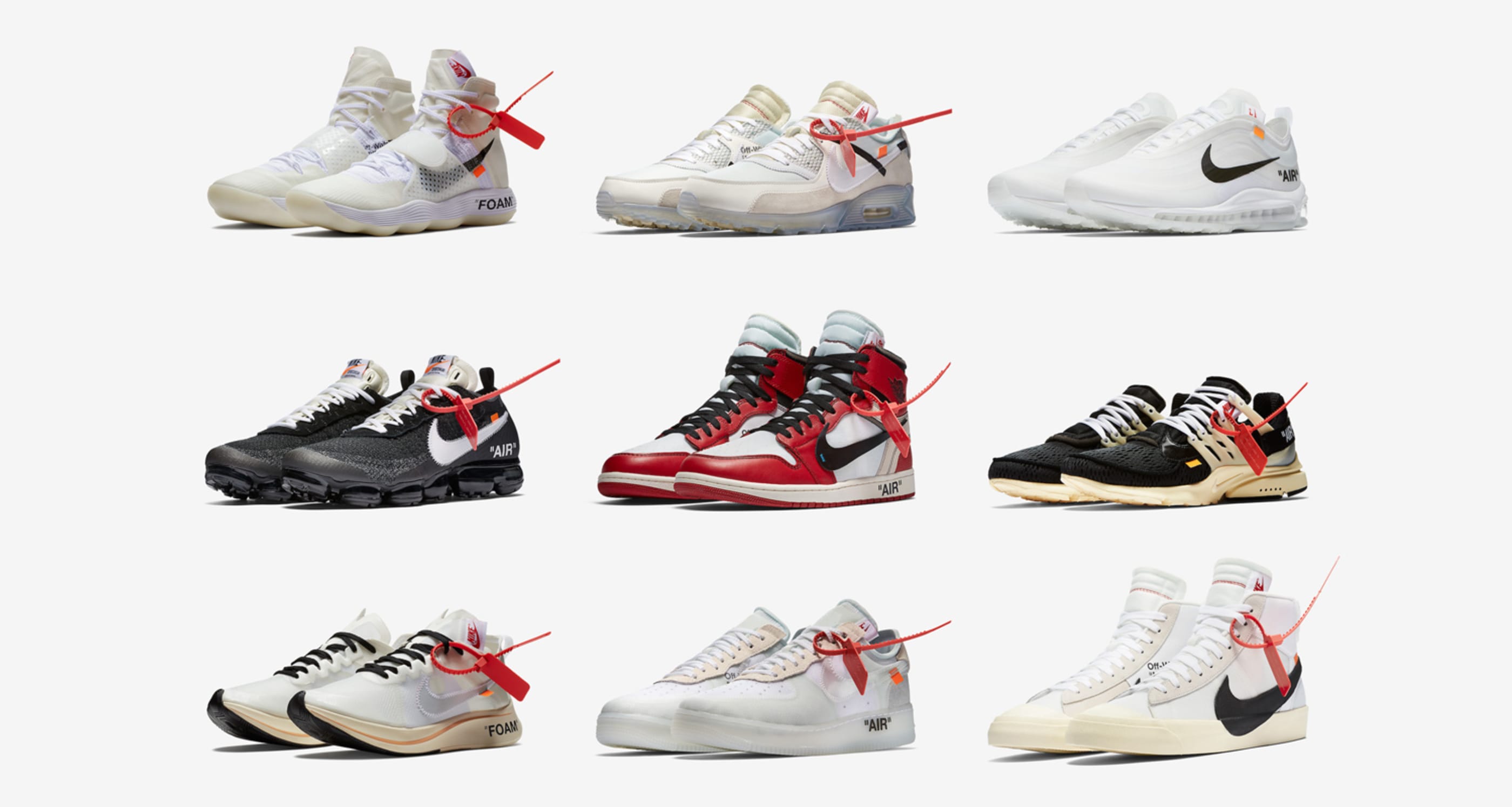 This iconic collaboration with Nike truly helped kick off Virgil Abloh's career. For the collaboration, Virgil Abloh created a sneaker capsule called "The 10" (https://www.complex.com/sneakers/ranking-off-white-nike-sneakers-worst-to-best/), and it included some of the most iconic Nike sneakers re-created in a unique way. When looking through the collection, you will find that the Air Jordan Blazer, Air Max, and Vapor Max were all re-designed around two main themes – Ghosting and Revealing. Abloh merged the iconic silhouette of each sneaker with his own avant-garde design to create a collab for the ages. Almost everyone was mesmerized by the Nike x Off-White sneakers, and they had an authentic pop culture following in the months after they came out.
Again here, both parties won from the collab. Virgil Abloh became a household name among fashion and street culture enthusiasts, while Nike became an even more hyped brand in these circles.
Rimowa x Supreme
At one point during 2018, Supreme was one of the biggest names in the streetwear community. During that exact period came the collaboration with Rimowa, which was an instant success.
As a brand, Rimowa is known to love collaborations, and over the years, we've seen this company work on joint projects with many other major companies, such as Anti Social Club and Off-White. So, the first collaboration between Supreme and Rimowa didn't precisely shock consumers, but that doesn't mean it didn't get them excited. The two companies worked together to produce two suitcases in different sizes, turning Rimowa's classic aluminum Topas suitcase into a giant box carrying Supreme's logo. Naturally, these two pieces didn't come cheaply – the larger one came at around $1,800 and the smaller one at around $1,600. That, however, didn't stop them from selling out in seconds and quickly getting recognized as an all-time classic streetwear item.
Most people who managed to snag a Rimowa x Supreme case are actually not using it for its designed purpose, as its resale price is extremely high, and it tends only to go up higher as more time passes.
We can see that, yet again, fashion and lifestyle brands have given us a terrific co-branding example where both parties benefit. In this scenario, Rimowa showcases itself to a new segment of consumers (younger, edgier), and Supreme establishes its name with an audience that may otherwise never hear of this brand (businessmen, working professionals).
Nike x Dior
If you've made it so far down this list, you've already figured out that fashion brands do it best when it comes to partnering with each other. This next example is no different. Dior is an old-fashioned French fashion house that's known for its classic, elegant designs that slightly take on modern trends. On the other hand, Nike is the brand every athlete and streetwear enthusiast loves and is rightly one of the most popular apparel companies in the world.
Even though the audiences and styles of those brands are vastly different, the brands somehow managed to come together and produce a distinctive product that speaks to each company's values. Dior's creative director Kim Jones came up with the idea to revamp the classic Air Jordan 1 in the Dior colors (a classy white and gray), and the drop was an incredible success. More than five million people signed up to get a pair of these iconic sneakers, but only 8,000 pairs were actually available, and so many were left disappointed.
The sneaker made its high fashion debut on the runway of the Dior Pre-Fall show in Miami, and it made Air Jordan's first step into the high fashion category.
Oura Ring x Gucci
As fans of the Oura Ring, we do have to admit that this partnership is pure genius. For those of you that don't know, the Oura Ring is basically a fashionable fitness tracker. You can wear it daily to track activity and during the night to track your sleep, and it's guaranteed that no one will notice that you're wearing some sort of fitness-related gear. Unlike most smartwatches, which lack the elegance and feel of a classic watch (and thus cannot replace), the Oura Ring can be worn by people who want to track their activity without losing their sense of style.
That's why this collaboration with Gucci makes so much sense. The Italian fashion house is known for its flashy, elegant designs, and it's a perfect partner for the Oura ring, as it introduces it to an audience that might be interested in exactly that kind of fitness tracker – one that's elegant, fashionable, and, most importantly, can go unnoticed.
The product that the two brands worked on together is an 18-karat yellow gold ring that bears Gucci's iconic G on the band. It looks nothing like your average fitness gear and still does the same job as all Oura Rings do. It captures your body temperature, recovery and activity level, sleep, stress, and more while allowing you to look fashionable.
Pandora x Marvel
Pandora is a Danish jewelry shop that's known for its iconic bracelet and the charms that you can attach to them. Over the years, Pandora has had collaborations with many other brands: Harry Potter, Disney, and Keith Haring, just to name a few. Most of those have made sense from the start – after all, it's mostly girls and women who love this brand, and creating merchandise with characters and stories they love is a total win-win.
However, Pandora launched a rather odd partnership with the comic book giant Marvel last year. The two companies came together and produced several charms inspired by iconic Avengers characters: Hulk, Iron Man, Black Panther, and more. The charm collection came along with an immersive digital game experience, which had customers trying to save the world with the help of the characters they had collected on their Pandora bracelets.
Of course, the collaboration was a success for both businesses as it introduced Marvel characters to an audience that might have largely ignored them before while also giving a spotlight to Pandora in front of comic book fans that might have otherwise not known about the company before.
Adidas x Balenciaga
In 2022, we got yet another fashion collab to die for. Balenciaga and Adidas created a streetwear collab made in heaven. Everything about this drop was done perfectly: from the person introducing the line – the world's most famous supermodel, Bella Hadid – to the way classic Adidas silhouettes like the Stan Smith were redesigned to fit with the current trends in fashion.
The collection was first introduced during the Balenciaga Spring/Summer 2023 show and was released at the beginning of November. It included not only the distressed Stan Smith but also a large variety of other items such as T-shirts, bags, tracksuits, and other old-school sneakers.
Even though Adidas has been a part of many collaborations recently (with Prada, Gucci, etc.), all of them have felt inorganic and honestly not even like real collaborations. They mainly consisted of Adidas providing the silhouette and then the high fashion houses stamping their label or pattern on it. That's what happened with Prada's redesign of the Forum sneaker and with Gucci's take on the famous Gazelle sneaker. In contrast, the partnership with Balenciaga is a two-sided deal. Not only did Demna Gvasalia (Creative Director of Balenciaga) put his take on classic Adidas shoes and clothes, but the three-stripe brand was also able to put its stamp on cult favorite Balenciaga sneakers.
It's once again an example that such a partnership only works if the two brands are invested in it and are willing to put in the effort to do something new and exciting. As this collection was released fairly recently, it's impossible to say just how influential it will become, but so far, it looks like it's poised to become iconic.
How to Choose the Right Company to Partner With
From the many examples we just discussed, you've probably figured out that finding the right partner for your collaboration is key. If you decide to get into a partnership just for the sake of it, it's likely that it will not give you the desired results. But, when the partner is the right one, it can do wonders for both businesses and help you reach your joint goals (for the campaign) and the individual ones of each business.
Here are our five tips for finding the best business partner:
Alignment with Goals
Before going out on a quest to find the right partner, you must define the goals you want this collaboration to help you achieve. Some common ones include
Entering a new market or trying to reach a new audience
Giving additional value to already-existing customers
Opening new revenue streams
Increasing brand equity and re-establishing your company
Building brand loyalty and customer engagement
Knowing what you aim to achieve will help you find the right brand partners to help you reach the particular goal you've defined. For example, a brand partnership that will help you reach new markets and extend your reach is not the same as one that will enable you to build customer loyalty, which is why defining your goals is integral to successful co-branding.
Brand Identity & Positioning
Another vital thing to consider is brand identity and brand positioning. You have to ask yourself whether the brand you're considering partnering with has a similar position to yours. A great example is the collaboration between BMW and Louis Vuitton – both companies are considered to be in the luxury segment, so when they launched a joint collection, it made a ton of sense.
An example of a failed partnership can be the collaboration between Target and Neiman Marcus. That's because the two brands target different markets – although Target isn't exactly low-cost, it still is a mass-market store, while Neiman Marcus is luxurious and exclusive. The holiday collection the two companies introduced was a failure, and in the end, they had to discount the collection by 70% in order for it to sell out.
Brand Scale
Scale is not always vital, but it's still good to consider the scale of your brand compared to one of your potential partners. When you decide to promote one another online, if the traffic one company generates is much higher than the other, the partnership won't be equal, leading to internal conflicts.
Of course, in certain situations, that won't matter or be a deciding factor. Sometimes, collaborating with a younger, hip brand is usually an excellent way for a more classic brand to reinvent itself and get introduced to newer markets.
Customer Alignment
Another factor to consider is customer alignment. Is the brand you want to partner with talking to the same target audiences? If you're trying to reach an entirely different customer segment, the brand collaboration is a lot riskier and can be unsuccessful.
Typically, the most common and risk-averse partnerships are between hotels and airlines, and it's easy to understand why. They cater to the same customer base, and the services complement one another. Another good example we already discussed is Red Bull and GoPro. Although they don't sell complementary products, they still target the same audiences – people who are into the active and adventurous lifestyle – so their collaboration works well.
Similar Ethics and Values
Many businesses underestimate the importance of finding a partner that shares their values and brand ethics. That can lead to disastrous results later on in the partnership. Take, for example, Shell and Lego. The two companies were a great match – Shell could sell Lego products to kids and their parents, while Lego gave Shell a more family-friendly feel and image. Their joint work lasted for more than five decades, only to end abruptly in 2014. Why?
Well, because in 2014, Greenpeace activists started a campaign that urged the Danish toy manufacturer to end the partnership as a way to protest against Shell's plans to drill into the Arctic. While for Lego, it still made financial sense to distribute its products at Shell's gas stations, the company's moral code interfered and made it cut the partnership. When you consider it, the entire situation could have been avoided if the people at Lego had thought about whether the company shared the same values as Shell before starting a business relationship.
Should You Consider a Brand Partnership?
A brand partnership that's done right can be terrific for your business. It can reinvent its image, introduce it to new target audiences, and even make it go viral. As you saw from the many examples we discussed, when co-branding is done in the best way possible, it can bring tremendous benefits for both businesses.
If you're looking to dive into a new market segment, introduce your brand to a new audience, or simply want to get people talking about it, you should consider collaborating.
If you want to learn more about marketing your company, products, and services, head over to the Camberlion blog, where we've written dozens of helpful articles. If you'd rather watch and learn, head over to our TikTok and Instagram, where valuable tips and tricks are constantly uploaded.